3 Words with Frank Black...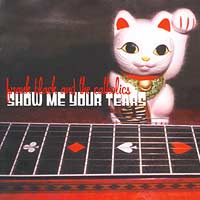 As Black Francis, he was the head of one of the most influential and implosive American rock bands of the Eighties: The Pixies. Currently on tour with his long-established band The Catholics, Frank Black's new album Show Me Your Tears (out this month thru Shock/Cooking Vinyl) shows the forthright old man of rock getting more personal and rootsy than ever before. We caught up with the reclusive musician via telephone for our award-winning interview segment 3 Words with...
Banana Report: So Frank, your new album once again features a guest appearance by Pixies guitarist Joey Santiago - so let me ask the question on everyone's lips: is there any chance of a Pixies re-union?
Frank Black: There's a chance.